Baby Adam's Story: One Miracle after Another
Baby Adam's Story: One Miracle after Another скачать видео -
Download
ПОХОЖИЕ ВИДЕОРОЛИКИ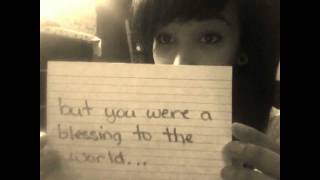 6 г. назад
Saddest thing ever.. Please watch this, little baby Adam needs your help. Go to ANY Wells Fargo and ask to donate to the Adam John Blackwood Memorial Fund You will need the account number to donate here it is: 7785534038. 8.31.11 - 1.8.12 Rest In Paradise Babe. Daughtry Gone Too Soon lyrics today could've been the day that you blow out your candles make a wish as you close your eyes today could've been the day everybody was laughin' instead i just sit here and cry who would you be? what would you look like when you looked at me for the very first time? today could've been the next day of the rest of your life not a day goes by that i don't think of you i'm always asking why this crazy world had to lose such a ray of light we never knew gone too soon, yeah would you have been president? or a painter, an author or sing like your mother one thing is evident would've given all i had would've loved ya like no other [From: http://www.elyrics.net/read/d/daughtry-lyrics/gone-too-soon-lyrics.html ] who would you be? what would you look like? would you have my smile and her eyes? today could've been the next day of the rest of your life not a day goes by that i don't think of you i'm always asking why this crazy world had to lose such a ray of light we never knew gone too soon, yeah not a day goes by, oh i'm always asking why, oh not a day goes by that i don't think of you i'm always asking why this crazy world had to lose such a beautiful life we never knew gone too soon you were gone too soon, yeah and not a day goes by that i don't think of you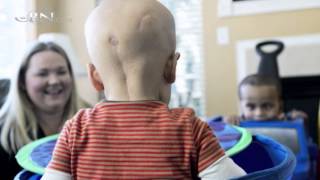 3 г. назад
After his first birthday, doctors discovered that Gideon Thompson had a brain tumor that was a direct result of brain cancer. Tony and Jenny Thompson prayed for a miracle for their little boy and God began to do amazing things. It was a ...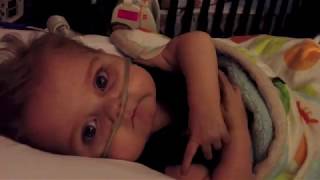 5 г. назад
Ryker Jason Warner 2012 ~ 2013 Ryker Jason Warner was born March 7, 2012 at 8:23am in Salt Lake City, Utah. He was a 6lbs 8oz beautiful baby boy, but sadly born with an extremely complex condition called Heterotaxy, along with 5 very serious congenital heart defects. Ryker's loving family moved mountains to get Ryker the very best care that he could possibly have & dedicated their lives to doing anything & everything necessary to save their baby boy's life. Ryker is survived by his loving parents; Jason and Rachel Warner, his four adoring older siblings; Trett, Jadd, Braylee and Addisyn Warner, as well as a massive family who all loved him dearly! During Ryker's short life he endured 4 open heart surgeries, an intestinal surgery, 3 days on ECMO, as well as spending the first 341 days of life within the walls of the loving & beyond wonderful Boston Children's Hospital. But much more importantly, than any medical interventions- Ryker LIVED & loved every second he had with the ones he loved, including half the hospital he was living in. Regardless of the hand he was dealt, our little miracle boy smiled, talked, moved around & loved life! He could stare into your soul with his big beautiful blue eyes, in a way that is indescribable unless you experienced it firsthand. Ryker touched more lives in his almost 14 months of life, than most do in an entire lifetime. He had a way of letting everyone in the world know that it doesn't matter what you go through- Life is a great & wonderful blessing to have! He always had a beautiful smile on his face, especially when it came to any one of his four older siblings, his eyes just lit up when he saw them! We had 8 weeks at home with our sweet little Ryker & we loved every single second of all of it. He was finally able to be at home, with the love of his family surrounding him daily. He was able to experience sights & smells that he had never experienced before, be held as often as he wanted, lay in the warmth of the sunlight & have his sisters & brothers love him to bits, every second of every day. On April 26, 2013 at 9:40am our family's world came crashing down when our sweet, precious boy earned his angel wings & left this earth to be with our Heavenly Father. Our lives will never be the same in so many ways, as well as the lives of tens of thousands of loving followers, and although we are left with shattered hearts, Ryker's heart is finally whole & beautiful just like we have always prayed for it to be. Fly high Beautiful Angel Boy! We will miss you immensely! Please join us in a Celebration of Ryker's Life at the South Mountain Community Church (14216 Bangerter Pkwy Draper, UT 84020) Saturday, May 4, 2013 at 11am. There will be a viewing at the same location Friday, May 3rd from 6-9pm. www.goffmortuary.com
4 г. назад
Video ID: 20140805-016 C/U Baby Roona M/S Father talking to Roona M/S Mother holding Roona C/U Mother cuddling Roona SOT Mohammed Abdul, Roona's Father (in Bengali): "I know the pain she goes through, but I want to see her like a normal child, so we're here in the hospital and now she's getting better, responding well. I know she will be alright one day." C/U Baby Roona in bed W/S Nurses attending Roona C/U Roona's mother comforting her M/S Roona's mother playing with her C/U Clinician information M/S Mother feeding Roona M/S Fortis Hospital lobby W/S Sculpture in Fortis Hospital W/S Fortis Hospital exterior SCRIPT Three-year-old Roona Begum, a toddler from Tripura near west Bengal, was preparing to be discharged after a check-up at Fortis Memorial Research Institute in Gurgaon, Tuesday. Roona previously underwent surgery at the clinic. Roona hit headlines last year after being rushed to hospital in New Delhi when the extreme form of hydrocephalus she suffers from deteriorated. Commonly referred to as "water on the brain," surgeons managed to reduce the size of her head from 37in (94 cm) to 23in (58 cm). Despite this, she was still given little chance of survival. Roona then underwent several rounds of surgery in May and June, with doctors draining excess fluid from her head and dramatically reducing the size of her skull. She is still unable to walk because of the weight of her head, but she is able to crawl, eat and interact with her parents. Roona still has monthly check-ups at the hospital. In light of her continued recovery, doctors are considering another operation to further reduce the size of her head. Facebook: http://www.facebook.com/Ruptly Twitter: http://twitter.com/Ruptly LiveLeak: http://www.liveleak.com/c/Ruptly Google Plus: http://google.com/+RuptlyTV Instagram: http://www.instagram.com/Ruptly YouTube: http://www.youtube.com/user/RuptlyTV DailyMotion: http://www.dailymotion.com/ruptly Video on Demand: http://www.ruptly.tv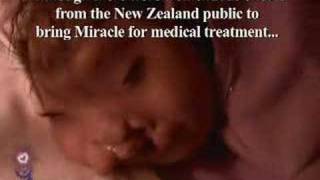 10 г. назад
Child Foundation supports children worldwide born with birth defects. Meet Baby Miracletina from Samoa. She was born September 1, 2007 and not expected to live for more than a few hours. Her parents would not allow her to slip away and were able to sneak milk to her and she became strong enough to go home to her loving family and Samoan community. Since arriving in the US, Miracletina has defied odds that were against her from the beginning and is now facing her first round of multiple life changing surgeries. Miami Children's top surgeons will donate their services, but it is up to Miracle's supporters to raise the hundreds of thousands of dollars needed to provide her with the necessary hospital expenses involved in such delicate and life saving surgeries. Please visit our website for more information and how YOU can support this precious "Miracle" that we are honored to provide assistance to. www.childfoundation.com You can make a difference and show this loving child that she deserves the quality of life that ALL children deserve. http://childfoundation.com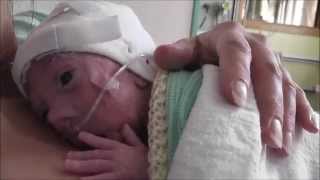 4 г. назад
Moving, inspirational short film depicting the journey of miracle premature baby Barnaby, born to a solo mother three months early, at 27 weeks gestation. An amazing true survival story of hope, courage and love. Thank God for Britain's NHS.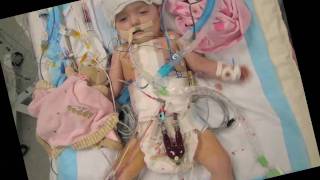 8 г. назад
Kaidence Stephenson got sick when she was just a baby. Her and her family's lives changed quickly as Kaidence's heart began to fail. See how Kaidence's other family up at Primary Children's Medical Center, a Children's Miracle Network Hospital, prolonged her life. A last minute gift came that would save Kaidence's life.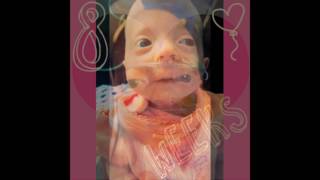 1 г. назад
Katie-raes Trisomy 18 (Edwards syndrome) Awareness video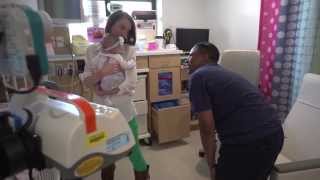 5 г. назад
Connect with one of our experts: http://bit.ly/18FsPJN Meet Dr. Elizabeth Bonachea: http://bit.ly/18FsDue Meetin Dr. Brian Kenney: http://bit.ly/18Fss1Q Learn about our neonatal services: http://bit.ly/18FrZgh Learn about our GI services: http://bit.ly/18Fsg2E Meet Baby Cami, a premature baby who spent her first few months in the NICU, overcoming obstacles and growing with the help of the experts at Nationwide Children's Hospital.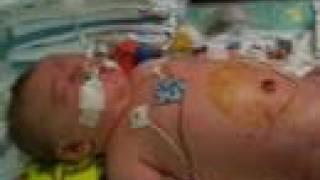 11 г. назад
This is the thank-you video Kristin made for Cook Childrens Hospital for helping to save Baby Fen's Life back in November 2006. Baby Fen aspirated meconium and blood during birth and also contracted eColi and strep-pneumo bacteria, which poisoned his blood, tissues, and organs and also caused many additional complications with his heart, lungs, and blood pressure (including pneumonia and pulonary hypertension and pulmonary hypotension). Doctors said he wouldn't make it, but Fen showed them how strong he really was! This movie is really intended for Cooks medical staff, friends, and family to view, but maybe it can give hope to those parents whose baby's doctors have told them that they won't make it through the night. BELIEVE... because you never know... Here's to miracles...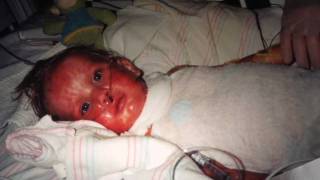 9 г. назад
Children's Miracle Network is touching the lives of 17 million sick kids annually through fundraising programs. Erik is just one of the miracles that take place every day in our 170 Children's Miracle Network hospitals.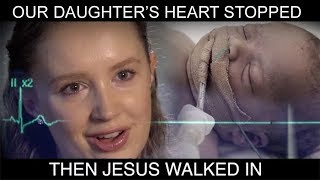 2 г. назад
To listen to the full testimony of Gabriella's story, Click Here: https://youtu.be/XwqI2gsVbtw?t=17m42s To go to our Facebook Page Click Here: https://www.facebook.com/thenormalchristianlife/ To see more Normal Christian Life Episodes, Click Here: https://www.youtube.com/thenormalchristianlife